Rifle Squad
The Rifle Squad
The rifle platoon consists of three rifle squads. Each squad is made up of a squad leader, an assisntant squad leader, an automatic rifle team of three men, and seven riflemen. My training will fit me to perform the functions of any of these men.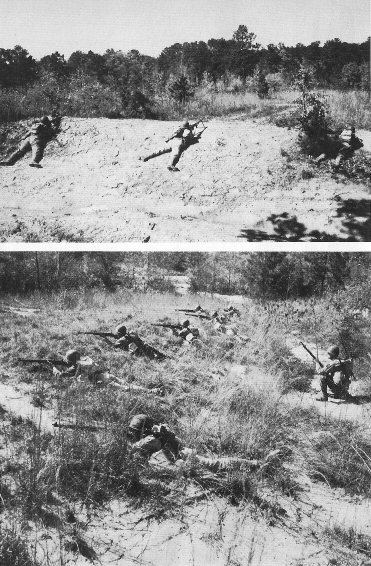 As a member of the squad, I will learn to handle its weapons, will become a competent rifle shot,a good bayonet fighter, and proficient in the use of grenades. In addition, I must learn to use the automatic rifle, for it is the basis of our squad's great fire power.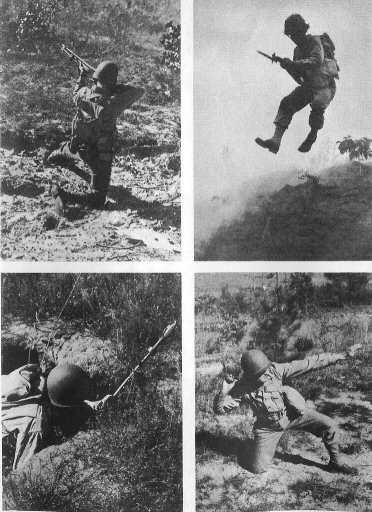 But training in the use of our weapons is only the introduction to my real job. I must learn to read maps and use the compass, to move quietly, secretly, and quickly, both day and night, to conceal myself from enemy observation, and to cover myself from his fire. This is not only necessary to protect myself and my comrades, but also to help in qualifying us to perform the duties of a scout.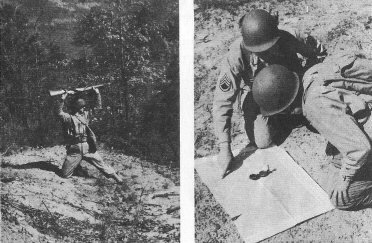 When I have become proficient as an individual in the use of weapons, in cover and concealment, in movement and maintaining direction, then I must learn to work with my buddies as a team. In team training, I will learn to operate as a part of a patrol or as part of a squad in attack or defense. It is in this training that I will learn to fit my individual skills into a coordinated effort to defeat the enemy.

---
---