1941 GMC CCKW-353-B1
(
Drew Ballard
)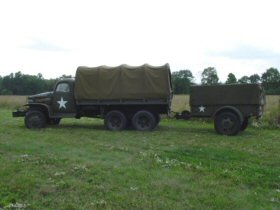 | | |
| --- | --- |
| C | A=1939 model, C=1941 model, D=1942 model |
| C | C=Conventional cab, F=COE, cab-over engine design, U=Amphibious body |
| K | K=Front wheel drive, blank=No front wheel drive |
| W | W=Dual rear axle drive, blank= |
| | X=Non standard drivleline(Timken), blank=Letter dropped when GM started supplying their own drivlelines, whether or not particular truck was Timken or GM axle. |
| 353 | 353=Long wheelbase (164"), 352=Short wheelbase (145") |
| B | A=Cargo body w/o winch, B=Cargo body w/ winch, D=Gas tank, G=Water tank, H=Dump body w/ winch |
| 1 | 1=Split (Timken) axle, 2=Banjo (GM) axle |
| | |
| AFKWX | 1939 model, COE, 6x6, Timken axles |
| ACKWX | 1939 model, 6x6, Timken axles |
| CCKWX | 1941 model, 6x6, Timken axles |
| CC | Rear wheel drive, 4x2 |
| CCK | All wheel drive, 4x4 |
| CCW | Rear wheel drive, 6x4 |
| CCKW | All wheel drive, 6x6 |
| DUKW | Amphibious, all wheel drive, 6x6 |
Note: The CCKWX was pre Army standard full production (pre-Feb 1941). The first "standard" Army full production model was the CCKW.
This truck is a CCKW-353-B1 surplused from the Norwegian Army in 1999. According to the rebuild tags on the engine, it was rebuilt in Paris in 1946 again in the 50s and I assume a couple more times by Norway. This particular model is a GMC 1941 model (C), conventional cab (C), front wheel drive (K), dual rear axle drive(W), long wheel base (353), cargo body type with winch (B), split axle (1).
Purchase:
My dad and I bought this truck and the trailer from Jeff Hain-Matson of Front Line Military Vehicles located in Wrightsville, PA in March of 2000. Jeff is a great guy, real honest and a good wrench and I'd recommend using him anytime. We drove across PA early on a cold day to check her out. After driving her around the neighborhood a few times to make sure everything was ok, we found one of the rear brakes was sticking. Jeff; being a former truck mechanic; fixed it quickly. The trailer was loaded in the bed and I drove her the 300+ miles home without a problem. The trip included some steep central PA mountains over which she could only manage 25mph (thank god for 4 lane roads). Nothing strokes the ego like getting the thumbs up from passing truckers. With 30,000 on the odometer she ran like a top the whole way.
Restoration:
You can see on the photos page that we had some rust in the usual places, bottom of the door and the lower front of the body. Luckily unit member Glenn Baker was a welder by trade so we got the sheet metal patched, covered up some extra mirror mounting holes, I sandblasted everything that I could remove and we were ready to go by Memorial Day 2000. Since then, Glenn has also added the jerry can racks behind the front bumper. These were copied from several Red Ball Express pictures.
Operation:
I put just over 6,000 miles on her that first year. From north western PA, numerous trips to Cleveland and Pittsburgh, twice to Harrisburg (8 hours), once to Reading (9 hours) and one trip to Dover, DE (11 hours non-stop) for her to appear in the History Channel feature "Blood From a Stone".
On one trip 30 miles from home over some steep and some rolling hills the exhaust note seemed slightly louder than usual. I got out, checked the pipes and didn't see anything wrong so I drove home. Nothing seemed wrong, she climbed the hills just fine, the exhaust note just seemed a little different. After going over everything I found that the head gasket blew between cylinders 3 and 4. With a head gasket blown between 2 cylinders on a 6 cylinder engine she made it home, over hills, and I wasn't even sure that anything was wrong. That's one hell of an engine.
The winch has worked since the day we bought her and has even come in handy pulling 2 vehicles from the surf at a D-day reenactment. Take a look at the photos below.
You'll also notice some pictures of Tiny under the truck and a broken intermediate shaft. We were driving to a Memorial Day display at 6am, 60 miles from home when we heard a loud bang as we pulled away from a light. Taking a look under the truck we saw that the short shaft between the transmission and transfer case (intermediate shaft) had snapped at the u-joint. Dressed in HBTs and 2 buckle boots I used the phone in a VERY fancy day spa to call the old man. He was able to pull a shaft off of one of Henry Venetta's parts trucks (who as usual, refused to take any money for it) and he showed up 3 hours later. Tiny; being a heavy equipment mechanic in the Army during Desert Storm; was able to swap the parts with the open end wrenches from the tool kit in no time and we were back on our way.
Over the years we've only had to replace the head gasket and water pump (both NAPA off the shelf) the crank pulley and the front tires. It's possible to fit the 2600# 43 GPW in the bed and get 7 mpg traveling over the central PA mountains to Harrisburg. She normally gets 9 mpg empty.